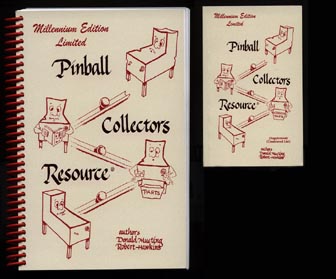 Click here to see a detailed description and review of this book.
The purchase price of this two book set includes two different sized volumes. The large book is the Pinball Collectors Resource. The second is a smaller pocket version of the book that includes only the basic information consisting of: Model, Manufacturer, Production Date, Number of players, production volume, and notes. This small volume is for easy identification of machines while on buying quests. The main volume contains the above data plus: Pinball manufacturers list , all new Note Definitions, a much more complete conversions identification section and an entirely new section of our book, a chronological list of games by Manufacturer. Accuracy of dates and historical information is of utmost importance to us. We maintain a large variety of primary source documents that contain original manufacturers data, ads, and supplemental information. This data has been compiled by the two authors over the past 25 years, all the while striving to create and maintain a complete and accurate Pinball Game Resource for your use.
To order this book, use one of the following forms.
Print form using your browser print command.
Web Style Form Acrobat Reader Style Form